Description: A natural cream that offers deep nourishment and hydration, with regenerative properties that contribute to the youthfulness of the skin. It improves the texture of the skin of the face and body. On the face it is used as a night cream, giving excellent results to all skin types, but mainly to mature or dehydrated.

It relieves the appearance of wrinkles, strengthens sensitive or irritated skin, helps with dry skin, burns, broken capillaries and spots. It can be applied daily on clean skin, leaving it beautiful and firm.

Every woman desires to have a healthy complexion that withstands the passing of time. Unfortunately, this doesn't always mean that time may pass without leaving its marks.

With every passing moment, time will leave some mark on our complexion. Dull looking skin, wrinkles and loss of radiance are some of the signs that tell us our skin may be losing its youthful appearance.

Wrinkles or fine lines are mostly related to aging. However, many times premature aging may be a result of inadequate protection and proper treatment of the skin.
Our wrinkles are our experiences and many times unavoidable. But what we can do is to soften them and maybe vanish them.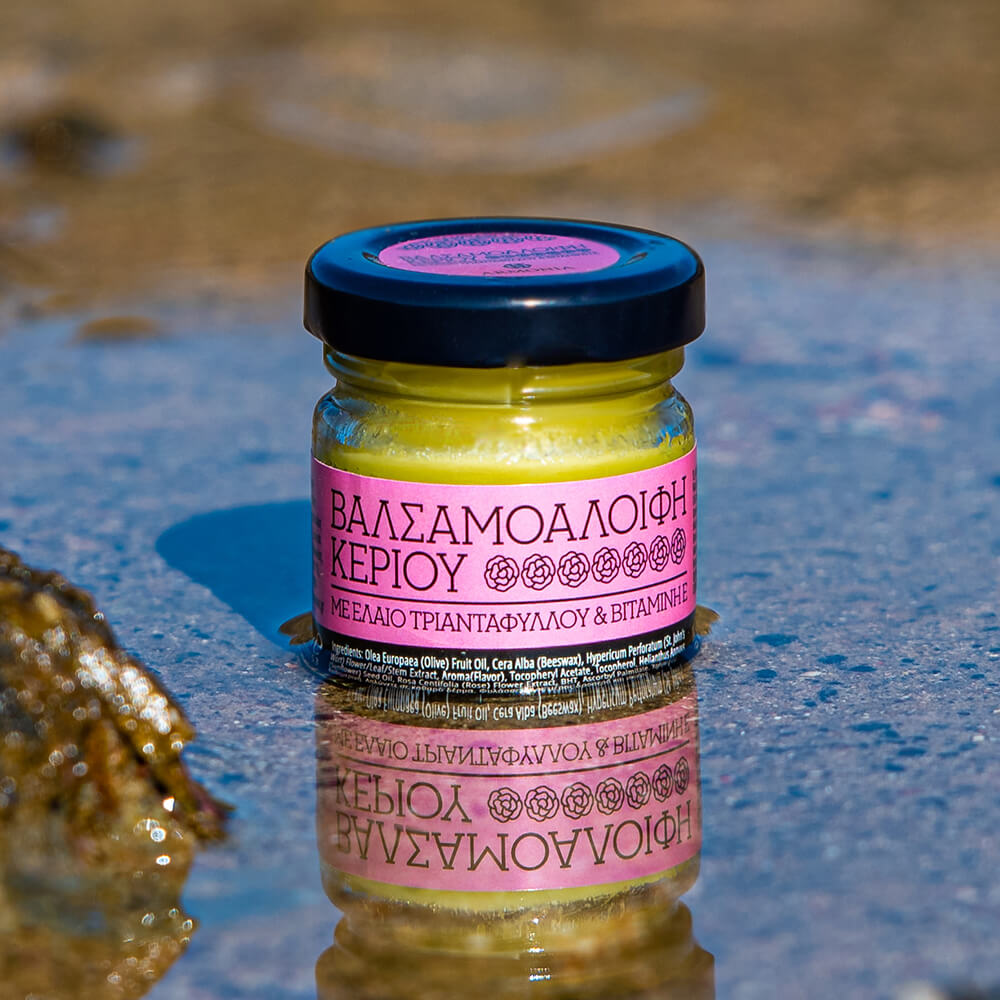 It is recommended that you care for your skin from a young age so that your skin stays fresh and healthy looking through the years. Your ally in this daily routine are the natural cosmetics.
A natural way to hydrate, nourish and keep your skin fresh and radiant is with St. John's wort oil wax cream with rose oil and vitamin E. A simple application on the skin of this natural cosmetic can undoubtedly show you its great quality difference. It differs from the classic ointments or wax creams in the way of production, in the legal European circulation notices, in the naturally certified ingredients and finally in its high quality.

It contains St. John's wort oil, made with organic extra virgin olive oil made from our own Sakellaropoulos organic farms, which has anti-inflammatory and antioxidant properties, as well as all of the beneficial properties of Vitamin E. This a natural cosmetic product, a wonderful wax cream with rejuvenating properties, that helps the skin retain its natural moisture and nourishes deeply.
Cold extracted, organic olive oil is a predominant ingredient in St. John's wort oil wax cream with rose oil and vitamin E, which contains many antioxidants (vitamin E and polyphenols), vitamins and minerals. Therefore, it rejuvenates the skin and stimulates its natural moisture, but also has well-known cosmetic and beneficial properties from ancient times.

The cold extracted organic olive oil it contains is produced by Sakellaropoulos Organic Farms, it has a composition rich in antioxidants and vitamins A and E, ingredients known for their regenerative, anti-aging and antioxidant action.
Vitamin E, due to its antioxidants in a completely natural form in organic olive oil, is ideal for combatting the formation of free radicals, a property that helps reduce the appearance of wrinkles and fine lines. Vitamin E gives a more youthful look, cool and hydrated skin, preventing future wrinkles.
Pure beeswax, as the main natural ingredient of the St. John's wort oil wax cream with rose oil and vitamin E, protects and helps the skin to retain its natural moisture, gives elasticity and softness. It has antiseptic, anti-inflammatory, emollient and healing properties. It contains proteins, minerals and a complex of vitamins and mainly vitamin A, which is necessary for the formation of cells. Pure beeswax, thanks to its regenerative and moisturizing properties, helps the skin to have a soft and elastic structure, soothes burns and injuries and retains moisture in the cells without closing the pores.


Rose oil is rich in vitamin A which helps reduce fine lines and rejuvenate the skin. It is also rich in antioxidants such as vitamin C, which helps improve skin texture. It is one of the best anti-aging oils and ideal for skin tissue regeneration. It helps in the fight against free radicals and protects the skin from premature aging. The aroma of rose essential oil softens and opens the heart, relaxes and balances emotions.
Rose oil seems to have a restorative effect on the symptoms of daily aging. It helps the skin become visibly younger, softening wrinkles and lost elasticity throughout the day and in the long run. It offers a glowing and youthful face. It relieves unsightly wrinkles and gives the skin health and radiance.

The rich composition of natural ingredients of St. John's wort oil wax cream with rose oil and vitamin E as a natural cosmetic for face and body care, enhances the normal functions of the skin. It offers effective hydration and protection against the formation of free radicals that cause skin aging. The skin remains hydrated, fresh and radiant all day long. At the same time caresses the skin with an intoxicating rose scent.
The St. John's wort oil wax cream with rose oil and vitamin E helps the skin of the face and body, offering deep hydration.

It promotes beauty and care leaving the skin smooth and cool as it has a soft texture, while it is considered to restore the natural balance of the skin.

St. John's wort oil wax cream with rose oil and vitamin E is dermatologically tested and carries all the legal certifications of circulation. It does not contain parabens, gluten, lactose, SLS, SLES, formaldehyde, propylene glycol, and other toxic ingredients.