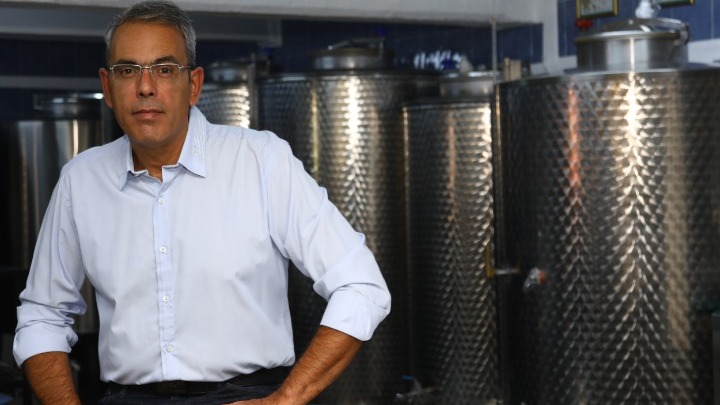 A unique record which few in the world and in Greece have acquired has been achieved by George Sakellaropoulos, olive producer from Laconia. His olive oil and olives, derived from his organic olive groves, have been awarded 135 times at most international taste and quality competitions. The last being in October 2019 when his olive oil was awarded for the second consecutive year first place worldwide in its category. In a worldwide ranking in order to achieve top place it is compulsory to have been awarded from most of the 31 international olive oil competitions that are carried out by different countries in the world.
Experts have been claiming for years now that the value of Greek olive oil and olives, compared to other Mediterranean competitors, is their quality. In the case of the Spartan olive oil producer, apart from the miracles that the Greek land (aromatic herbs, citrus) provides, are the passion he has for these two national products and his dedication for the pure, authentic and the best. With them at the olive mill of the future for the Greek olive, added to the dream and the knowledge that "those who will engage in olive production must work hard" because just as Mr. Sakellaropoulos has stated in an interview that he gave to AMNA and Thanasis Tsigganas "olive production is not a speed race, but a super marathon that requires endurance".
Q: You have a unique record for a Greek olive producer. 135 awards for the olive oil and the table olives from international taste and high quality competitions worldwide. Which ingredients make the difference?
What makes the difference can be summarized in one word and one meaning, and that is passion.
Passion for high quality, passion for innovation and uniqueness with scientific monitoring, passion for unique culinary combinations, with pluralism of taste, characteristics which have the signature and identity of Sakellaropoulos Organic Farms, from Greece and from Sparta, Laconia. For the past 28 years, without deviation, we have been making the difference that has led to this honorable achievement of 135 international awards.
We had not participated in international competitions before 2012. That is, 20 years after the beginning of our efforts, we had undergone a period of preparation and specialization, because we wanted to be absolutely sure that the organic olive products that we produce are at the highest level of taste and quality worldwide and can compete with the top olive products worldwide.
We participate primarily in competition of high status, with hundreds of competing samples that are tested by professional tasters, blind tasting under the standards that the International Olive Council has set. That is, the judges and the tasters do not know which olive oil or table olives they are trying, therefore sustaining high taste standards.
We compete with countries with very high quality production such as Italy, Spain, Tunisia, France, Morocco, Turkey, USA, Argentina, Chile and many others.
We have never competed in international competitions for design and promotion in general, we are not interested in this area. We are interested only in the internal content of our products. Therefore, this type of distinction has greater value for us.
Q:Do you believe that the "bouquet" organic olive oil – olives plus aromatic herbs from Greek land (aromatic herbs, buds and fruits) is irresistible and shows us the road for tomorrow or it just happened to work?

I absolutely believe it and I apply it from the beginning. This irresistible bouquet is not by chance and it did not just happen, but is an integral part of our organic olive products.
Our land, Sparta Laconia, is not a choice by chance, nor are the special conditions we create in our organic farms for the co-existence of the bouquet of aromas, taste, and senses from past forgotten eras.
The excellent combination of the micro-climate, the flora and fauna, at the foot of the Taygetus and Parnonas mountais, makes our organic olive products unique with characteristics of top and rare quality, which rank them at the top places worldwide.
Q: Where does the future of olive oil and olives lie? In food as necessary ingredients of the Mediterranean diet or as functional food rich in phenols and other antioxidant ingredients which improve the human health?
I believe that the future of olive oil and olives is found with cooperation of both, as functional foods.
Functional foods are foods that besides their taste and high quality, can help improve human health with their daily consumption due to the scientifically proven content in beneficial ingredients and antioxidant substances they contain.
It is certain that olive oil and olives are the basic ingredients of the Mediterranean diet, a huge brand name, known to the whole world, whichin the last couple of years has come to the forefront again with studies from well-known universities.
We are participating in the three year study "Interventional Study of the Mediterranean diet" that is taking place at the Harvard University, School of Public Health, that has added olive oil in the daily diet of 1000 volunteer fire fighters from 44 fire stations in the USA.
The aim of this 3 year study is to prove that changing the dietary habits of groups of people who have high health risks and mainly cardiovascular risks during their duty, such as firemen, can reduce these risks by exceptionally high percentages.
Another characteristic example of functional foods is the clinical study that took place from the University of Athens, under the supervision of Dep. Professor Dr. Prokopios Magiatis and Dr. Eleni Melliou at the Pharmaceutical Department and their scientific team, where they studied olives that have the most health beneficiary ingredients (tyrosol, hydroxytyrosol and their derivatives).
Our organic table olives that we produce were found to have an average of 5 times higher tyrosol and hydroxytyrosol (strong natural antioxidants) from the rest of the olive types that were analyzed in this laboratory.
The results were announced at the symposium of the Oleocanthal International Society that took place in Olympia in 2016, where they announed that a daily consumption of only 5 of our table olives can positively impact the lipidemic profile of a human being.

Q: Having participated in all those international competitions, do you feel as if you are an ambassador for Greece regarding olives and olive oil?
First I would like to clarify that I do not claim any title because it is not in my character or my philosophy. I believe that the essence is found in all of us giving great importance and attention in the brand "Greece", without ambassadors and other titles. I feel great joy when Greece, as my country and as a brand "Greek olive oil and Greek table olives", acquires great international awards and their rightful place in all the international competitions from whichever Greek producer it comes from. All the olive producers are continuously offering piece by piece to the acknowledgement of the Greek brand abroad, that we need as an olive producing country. Greece does not need ambassadors for olive oil and olives, but people that with respect and humility raise the Greek flag at international competitions, acquiring top places throughout the world.
Q: Which is the most important rival for Greek olive oil and olives abroad?
The international competition in general has grown over the years, since many countries that for many years did not produce olive oil and olives, now produce them at great extent and quantity. In many cases with great investments in infrastructure, with high expertise and continuous steps forward in knowledge throughout all stages of production, cultivation and packaging. Two characteristic examples of such cases are Japan and the USA. Therefore, many have become important competitors of Greek olive oil and olives. But of course, there are the main countries such as Italy and Spain and also countries that are getting closer such as Tunisia, Turkey and Argentina.
In order to understand the high degree of difficulty, the known World Ranking EVOO evaluates and ranks only the awarded olive oils worldwide every year. For 2019, 12.092 samples of olive oil were evaluated for 34 countries worldwide, in 31 international competitions. There, for the second consecutive year, our country, Greece, acquired first place worldwide, with our multi varietal gourmet olive oil Gemstone blend evoo, in the category RANKING OF THE BEST CONDIMENTO OLIVE OILS 2019.
Q: There are a number of young people that every year starts to get involved with olive production. What would you advise them?
Initially, I would advise them to love what they do, respecting the sacred olive tree and Greek olive production.
I would tell them that olive production is not a speed race but a super marathon, with many rough roads, with difficult moments that require endurance, humility without exaggerations.
They must acquire the necessary knowledge before they begin, in order to gain knowledge, to try, to experiment and to learn from their mistakes, putting their own inspiration and identity in whatever they do, spreading the brand name "Greek olive oil and Greek table olives" throughout the world.
Source:
amna.gr